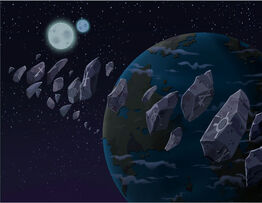 RaDos is the planet home to the world of Di-Gata.
Notable Mentions
Edit
It orbits three suns.
It has three moons, named Yamagat, Ogama-Yor and Bakkor-Yah.
It is split up into eight provinces, each governed seperately.
It is connected to the Dark Realm, in another dimension.
No creature actually dies, as their sigil energy goes back into the bedrock of RaDos.